Tour of Brats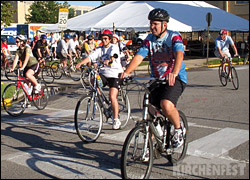 Registration: Sunday at 7:00AM | Ride: Sunday, 9:00
Enjoy a bike ride on Sunday morning by taking part in the Tour of Brats.
The "Tour of Brats" bicycle race is a take on the "Tour de France." The 25 mile bike route follows lightly traveled roads around Highland. While eating bratwurst is not necessary, at the end of the race, the rider is awarded a 1 minute time credit for EACH bratwurst eaten (two brat max). Air up your tires, be ready to eat some brats, and join us!