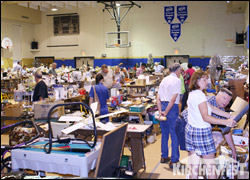 FLEA MARKET Saturday, 9:00 a.m. – 6:00 p.m. | Sunday, 11:00 a.m. – 3:00 p.m.
St. Paul School's Gymnasium is the site of the Kirchenfest Flea Market. Fancy yourself a bargain hunter?Well, this is your paradise! You'll find bargains galore throughout the weekend.
Want to get a head start on your bargain shopping?
The Flea Market Pre-Sale is held Friday Evening, August 26, from 6-9 p.m. Admission to the Pre-Sale is $5.
Flea Market Donation Info – 2016 MEGA Flea Market Info