STRASSENLAUF 10K, 5K, & 2K RUN/WALK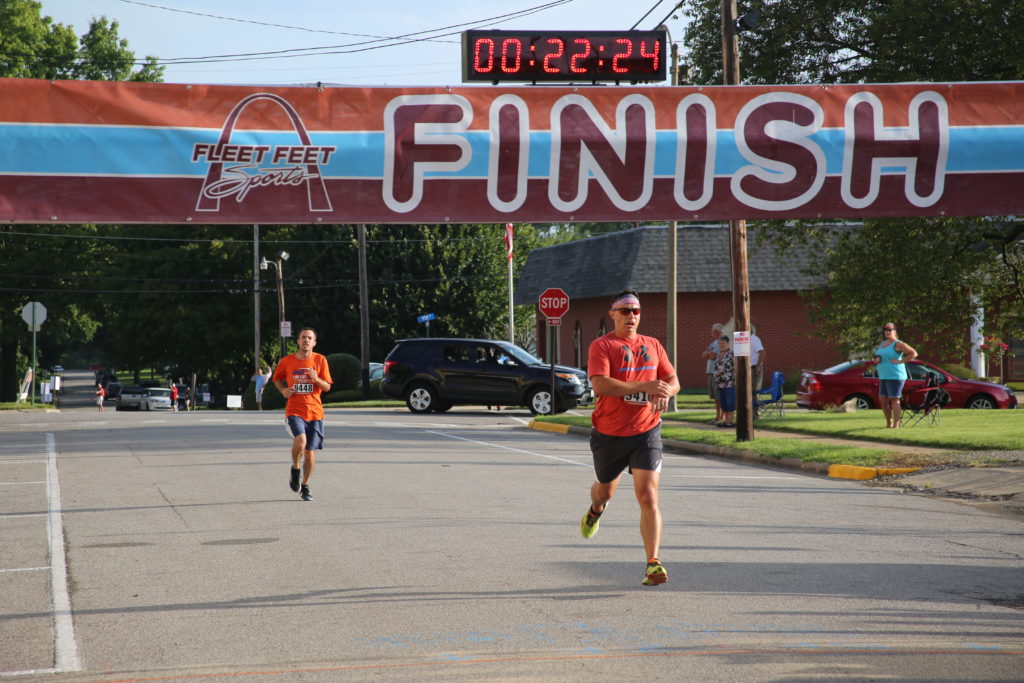 Saturday, 7:30 a.m. & 9:00 a.m. – RAIN or SHINE
A little morning exercise… what an ideal way to start the weekend!
The 10k/5K Strassenlauf Run starts at 7:30 a.m. and the 2K Walk/Run starts at 9:00 a.m.
Runners of all skill levels are welcome to compete.
Shortly after the Strassenlauf is completed, visit our home page and we'll link to the results for everyone to see!
Special Thanks to:
1.  Knights of Columbus for the continued generous donation to sponsor the shirt purchase.
2.  St. Joseph's Hospital Physical Therapy department is donation 500 water bottles and will be there race morning for any physical needs of racers.
3.  A group of "Friends of Kirchenfest" for donating a Go Pro Hero camera as the early registration give-away!
 Registration Form      Online Registration   
2K RunAwards Division
6 and under
7 – 9
10 – 12
13 – 14
15 – 16
17 – 19
20 – 34
35 and over
10K/5K Run Awards Division

9 and under
10 – 14
15 – 19
20 – 24
25 – 29
30 – 34
35 – 39
40 – 44
45 – 49
50 – 54
55 – 59
60 – 69
70 and over
Heavy Weight
Wheelchair
2016 – Results, Awards
2015 – Results, Awards
2014 – Results, Awards
2013 – Results, Awards
2012 – 5K Overall, 5K Agegroup, 2K Overall, 2K Agegroup, 5K Heavyweight
2011 – 5K Overall, 5K Agegroup, 2K Overall, 2K Agegroup, 5K Heavyweight
2010 – 5K Overall, 5K Agegroup, 2K Overall, 2K Agegroup, 5K Heavyweight
Sponsored by Knights of Columbus Council 1580
MEDALLIONS MUST BE ACCEPTED DAY OF AWARDS CEREMONY
DATE:                   Saturday, August 27, 2016
LOCATION:           Start & Finish at St. Paul Catholic Church Grounds, Ninth & Lemon Sts., Highland, IL
STARTING TIME:  5K starts at 7:30 a.m. • 2K starts at 9:00 a.m .
COURSE:               5K loops through paved, tree-lined residential streets – slightly hilly. Markers at every mile. Splits at 1 and 2 miles. 2 water stops – course marshals at all intersections.
SHIRTS: Moisture Wicking Performance shirts are available to the first 500 entrants (adult sizes only)
ENTRY FEES: $25 for entries submitted for 2K race prior to August 16th. Late entries for 2K are $30. NO REFUNDS.
$25 for entries submitted for 5K race prior to August 16th. Late entries for 5K are $30. NO REFUNDS.
Early Packet Pick-up Friday 5:00 p.m. – 8:00 p.m. Day of Race, Packet pick-up begins at 6:30.
AWARDS: 5K & 2K – Trophies to First Overall Male & Female finishers. Over 130 custom-cast medallions given to top
age group finishers, 5K & 2K. Awards ceremony at 9:30 a.m. in South Tent.
REFRESHMENTS: Post-race refreshments will be available. Bavarian Skillet Breakfast available for purchase on Church
Grounds from 7:30 a.m. to 10:00 a.m. Please stay & join the festivities.
For further information contact:
Sharon Schmitz 618-792-4577 OR Sarah Wiegman 618-651-0047
MAKE CHECKS PAYABLE TO : Kirchenfest Strassenlauf
MAILTO: c/o Dan Koerkenmeier, 2 Meadowlark Ct., Highland, IL 62249
Disclaimer
By filling out this form you adhere to the following. I know that running a road race is a potentially hazardous activity. I should not enter and run unless I am medically sound and properly trained. I agree to abide by any decision of a race official relative to my ability to safely complete the run. I assume all risks associated with running in this event including, but not limited to, falls, contact with other participants, the effects of the weather, including high heat and/or humidity, traffic and the conditions of the road, all such risks being known and appreciated by me. Having read this waiver and knowing these facts and in consideration of your accepting my entry, I, for myself and anyone entitled to act on my behalf, waive and release St. Paul Church, City of Highland, Knights of columbus Council 1580, and all other sponsors, their representatives and successors from all claims or liabilities of any kind arising out of my participation in this event. I grant permission to all of the foregoing to use any photographs, motion pictures, recordings, or any other record of this event for any legitimate purpose.